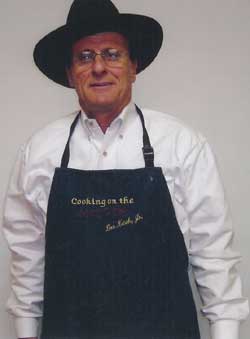 Don Netek's Cooking Tips
CONCERNING DUCKS, GEESE & JAVELINA...
For some folks, the distinct flavor can be a little too strong. And being that we want others to enjoy in our feast, I have learned how to help with this. Take your game for example, snow goose breasts or a javelina roast, whichever you are preparing, put it in a pot of cold water and baking soda. Just one cup of baking soda. Let it sit in the refrigerator for 24 hours. Change the water and the baking soda at least three times within the 24 hour period. What happens is you remove as much blood as you can. The baking soda, I think semi-neutralizes any remaining digestive juices. I cannot prove this, but it really works. After soaking for this 24 hour period, be sure to rinse the meat. Now you are ready to cook.
Reminder: Use baking soda and not baking powder.
HAVE FUN COOKING
DON NETEK
Hunter, Fisherman, Chef, and Author


Copyright © 1996-2009 Netek Enterprises